Yannick Noah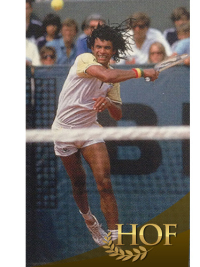 Born
Subscribe now

This information and data is not available because you are not our subscriber yet.
Please click here and get full access to the entire database!

Class of HOF
Height
Weight
Plays
Coach
Bio
France Enormously popular, former tennis player Yannick Noah delighted galleries all over the globe with his emotional energy, grace, and panache. Noah was appealingly aggressive, a wondrous athlete, and an inspirational performer.
He is best remembered for winning the French Open in 1983 and as a highly successful captain of France's Davis Cup and Fed Cup teams.

During his career, which spanned almost two decades, Noah captured a total of 23 singles titles and 16 doubles titles, reaching a career-high singles ranking of World No. 3 (in July 1986) and attaining the World No. 1 doubles ranking the following month.
Since his retirement from the game, Noah has remained in the public eye as a very popular music performer and as the co-founder, with his mother, of a charity organization for underprivileged children. Noah is also the father of Joakim Noah of the NBA player.

Born in the north of France in 1960, Yannick Noah is the son of a Cameroonian footballer, Zacharie Noah, and his French wife Marie-Claire. After a sports injury in 1963, Noah's father returned to Africa with his family.
He was living in Cameroon when he made his debut in tennis and was discovered at age 11 by Arthur Ashe and Charlie Pasarell. He soon showed an amazing talent that eventually brought him to the French Tennis Federation's training center in Nice in 1971.
Noah turned professional in 1977 and won his first top-level singles title in 1978 in Manila.
He is the 1977 French Junior Champion also won the 1986 adidas ATP Sportsmanship award.

Noah ended Lendl's 44 match win streak at the 1982 Palm Springs final.

Noah became France's most prominent tennis hero in 1983, becoming the first Frenchman in 37 years to win the French Open(since Marcel Bernard), one of the four Grand Slam singles events.
With his success creating a euphoria in Paris that might never be surpassed.He dropped only one set during the two-week long tournament, and defeated the defending champion, Sweden's Mats Wilander in straight sets in the final. He remains the last and most recent Frenchman to have won the French Open men's singles title.

Noah won the French Open men's doubles title in 1984 (with compatriot and best friend Henri Leconte). He was also the men's doubles runner-up at the 1985 U.S. Open (with Leconte), and the 1987 French Open (with compatriot Guy Forget). In August 1986, Noah attained the world no. 1 doubles ranking, which he would hold for a total of 19 weeks.

Noah played on France's Davis Cup team for eleven years, with an overall win–loss record of 39–22 (26–15 in singles, and in 13–7 doubles). In 1982, he was part of the French team which reached the Davis Cup final, where they were defeated 4–1 by the United States.

Nine years later, in 1991, Noah captained the French team which won the Davis Cup for the first time in 59 years, defeating a heavily favoured US team 3–1 in the final. This feat was repeated in 1996, when France defeated Sweden 3–2 in the final held in Malmö.

In 1997, Noah captained France's Fed Cup team to its first victory in that competition as usual his unbridled passion was a trade mark again.

He notably admitted using marijuana prior to matches in 1981, saying that amphetamines were the real problem in tennis as they were performance-enhancing drugs.
He remains France's highest ranked player since the introduction of rankings in 1973.

Noah was inducted into the International Tennis Hall of Fame in 2005.
Tournament
AO
RG
W
US
Win-Loss
Subscribe now

This information and data is not available because you are not our subscriber yet.
Please click here and get full access to the entire database!