Shuzo Matsuoka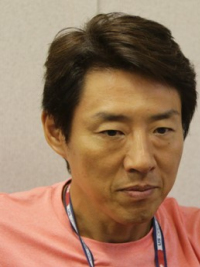 Born
November 06, 1967 in Tokyo, Japan
Height
6'1" (185 cm)
Weight
176 lbs (80 kg)
Plays
Right-handed
Coach
Bob Brett
Bio
Matsuoka turned professional in 1986. In 1989, he finished runner-up in the top-level tournament at Wellington, and captured the doubles title in Auckland. 1991 saw Matsuoka achieve his career-best Masters result, when he reached the quarter-finals of the 1991 Canada Masters in Montreal, beating Pete Sampras in a dramatic 3-set match en route.

In 1992, Matsuoka became the first Japanese player to win a singles event on the ATP Tour when he captured the title in Seoul. He was also runner-up at the prestigious grass court tournament at Queen's Club that year.

Matsuoka's best performance at a Grand Slam event came at Wimbledon in 1995, where he reached the quarter-finals, beating Karel Nováček, Mark Knowles, Javier Frana and Michael Joyce before being knocked out by Pete Sampras. Matsuoka won the first set but Sampras came back to win 6–7, 6–3, 6–4, 6–2.

At the US Open in 1995, Matsuoka was left writhing in pain on court after being struck severely by cramps during his first round match against Petr Korda. The rules at the time meant that Matsuoka would have forfeited the match if he had gotten medical attention, so he was left to suffer until he was defaulted for delaying the match. The incident led to a change in the rules of professional tennis to allow players to receive medical treatment for cramps during matches.

Matsuoka's career-high rankings were World No. 46 in singles (in 1992) and World No. 95 in doubles (in 1989). His career prize-money earnings totalled $1,117,112. He retired from the professional tour in April 1998.

Since his retirement from tennis Matsuoka has become a popular television sports commentator in Japan. He hosts the "Shuzo Challenge", an annual tennis camp for young children by the JTA. Kei Nishikori, Japan's current No. 1, attended the camp when he was 12 years old.

Known for his passionate and energetic character, Matsuoka has also appeared in numerous variety programs, as well as in a cameo role for a television drama series. In 2008 Matsuoka was featured in ten television commercials, tying him with Takuya Kimura for the celebrity to be featured in the most number of television commercials that year.

He has become something of an internet meme on video sharing websites such as Nico Nico Douga and YouTube, where users create MAD Movies out of videos found on the front page of his official site.

Misc
Matsuoka married former TV Tokyo announcer Emiko Taguchi in 1998, and has three children. His father, Isao Matsuoka, is chairman of Toho Co., Ltd., the Japanese film studio known for its Godzilla movies as well as numerous Akira Kurosawa films.