Sammy Giammalva Sr.
Full name: Samuel Antone Giammalva Sr.
Nickname: Sammy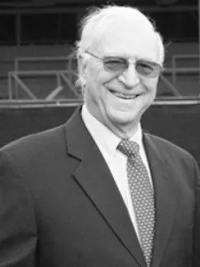 Born
Subscribe now

This information and data is not available because you are not our subscriber yet.
Please click here and get full access to the entire database!

Height
Weight
Plays
Bio
He is an American former amateur tennis player in the mid-20th century.

Giammalva was the first student on the first tennis team at St. Thomas High School and studied all four years. He was a member of the student council in his junior and senior years, he was the state junior champion in singles and doubles in 1951, and became the youngest player to win the state men's tennis title the same year. During his years at St. Thomas, Giammalva won the Orange Bowl junior championship and the River Oaks junior championship. He succeed the national junior indoor championship in both singles and doubles in Florida in 1952 and repeated as champion in both singles and doubles in the following year. He attended the University of Texas in Austin and was almost unbeatable as a collegian in the mid 1950s. Giammalva is still the only Longhorn to sweep NCAA singles and doubles titles for three consecutive years (1955 – 1957). In 1957, he played in the finals of National Intercollegiate (NCAA) in 1957 in Salt Lake City. It was Michigan's MacKay who beat Giammalva, of the University of Texas at Austin, in the final of the 1957 NCAA Championship, by a score of 6–4, 3–6, 6–2, 3–6,6–3.

Giammalva is one of only 130 men to represent the United States in Davis Cup play in the over 100 years of competition. He participated in seven ties between 1956 and 1958, going 4-1 in singles and 3-2 in doubles. In 1956, he played in the Davis Cup challenge round in Australia against Ken Rosewall.
Giammalva played for the United States Davis Cup team, earning a 7–3 record and he was on the victorious U.S. teams of 1957 and 1958.

He won the Eastern Grass Court Championship in 1955 in South Orange, New Jersey (before the US Nationals). Giammalva also reached four finals at the Cincinnati Masters. In 1958, he knocked out Crawford Henry, Gustavo Palafox, and Donald Dell before falling to fellow Texan Bernard Bartzen in the singles final by a score of 7–5, 6–3, 6–2. He also reached the singles final in 1954 and doubles finals in 1952 & 1958.
Giammalva's best grand slam singles result was reaching the quarter-finals of the 1955 U.S. National Championships, where he lost to No. 4 seed Lew Hoad in four sets.
In 1958, he teamed up with Barry MacKay to reach the doubles final at the U.S. Nationals. The pair fell to Alex Olmedo and Ham Richardson, 3–6, 6–3, 6–4, 6–4.
After turning professional in 1958, participating at The Jack Kramer Championships, and played the US Pro Championships also in 1960,1964,1965, 1966 and 1967.

Sammy Giammalva went on to coach at Rice University for 14 years from 1959 to 1972, leading the Owls to 10 Southwest Conference titles and two second-place NCAA tournament finishes in 1968 and 1970. He produced 15 All-Americans during his tenure as head coach. After leaving Rice, Sammy served as general manager and tennis director of the Metropolitan Club in downtown Houston until his retirement.

Misc
Subscribe now
Tournament
AO
RG
W
US
Win-Loss
Subscribe now

This information and data is not available because you are not our subscriber yet.
Please click here and get full access to the entire database!