Monica Seles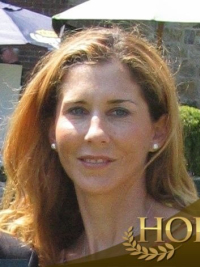 Born
Subscribe now

This information and data is not available because you are not our subscriber yet.
Please click here and get full access to the entire database!

Class of HOF
Height
Weight
Plays
Bio
Monica Seles Tennis Hall of Fame. She was born and raised in Novi Sad, SFR Yugoslavia. She is an ethnic Hungarian. With devastatingly potent and piercingly accurate two-handed ground strokes, an indefatigable fighting spirit, and unsurpassed match playing skills, Monica Seles was a transformational player in her sport.
Seles, a left-hander who was arguably the first woman ever to demonstrate such overwhelming power and precision off both sides, took apart adversaries with not only the depth of her shots but unimaginable angles as well. At her peak, she lived on the edge of invincibility, winning seven of the eight majors she played from 1991-93.

She became a naturalized United States citizen in 1994 and also received Hungarian citizenship in June 2007. She won nine Grand Slam singles titles, winning eight of them while a citizen of Yugoslavia and one while a citizen of the United States.

In 1990, Seles became the youngest-ever French Open champion at the age of 16. She went on to win eight Grand Slam singles titles before her 20th birthday and was the year-end World No. 1 in 1991 and 1992. However, on April 30, 1993, she was the victim of an on-court attack, when a man stabbed her in the back with a 9-inch (23 cm) long knife. Seles did not return to tennis for over two years. Though she enjoyed some success after rejoining the tour in 1995, including a fourth Australian Open success in 1996, she was unable to consistently reproduce her best form. She played her last professional match at the 2003 French Open, but did not officially retire until February 2008.

In June 2011, Seles was named one of the "30 Legends of Women's Tennis: Past, Present and Future" by Time.

Seles was born in Novi Sad, Yugoslavia, current-day Serbia, into an ethnic Hungarian family. Her parents are Ester (Eszter) and Karolj (Károly) and she has an older brother, Zoltán. She began playing tennis at age five, coached by her father. Karolj Seles, a professional cartoonist employed for decades at the Dnevnik and Magyar Szó newspapers, drew pictures for her, to make her tennis more fun. He is responsible for developing her two-handed style for both the forehand and backhand. Later, her coach was Jelena Genčić. In 1985, at the age of 11, she won the Orange Bowl tournament in Miami, Florida, catching the attention of tennis coach Nick Bollettieri. In 1986 the Seles family moved from Yugoslavia to the United States, and Seles enrolled at the Nick Bollettieri Tennis Academy, where she trained for two years.

Seles played her first professional tournament as an amateur in 1988 at age 14. The following year she turned professional on February 13, 1989, and joined the professional tour full-time, winning her first career title at Houston in May 1989, where she beat the soon-to-retire Chris Evert in the final. A month later, Seles reached the semifinals of her first Grand Slam singles tournament at the French Open, losing to then world no. 1 Steffi Graf, 3–6, 6–3, 3–6. Seles finished her first year on the tour ranked world no. 6.

Seles was a popular player, winning the inaugural Sanex Hero of the Year award in 2002. This award was voted by fans around the world.

She was elected to the International Tennis Hall of Fame in 2009.
Tournament
AO
RG
W
US
Win-Loss
Subscribe now

This information and data is not available because you are not our subscriber yet.
Please click here and get full access to the entire database!