Gabriela Sabatini
Full name: Gabriela Beatriz Sabatini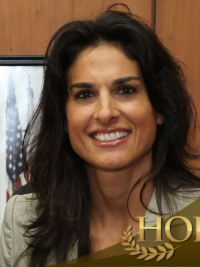 Born
Subscribe now

This information and data is not available because you are not our subscriber yet.
Please click here and get full access to the entire database!

Class of HOF
Height
Weight
Plays
Bio
Gabriela Beatriz Sabatini is an Argentine former professional tennis player. She was born 16 May 1970 in Buenos Aires, Argentina to parents Osvaldo and Beatriz Garofalo Sabatini. Since retiring at the age of 26, Sabatini has promoted her lines of perfumes and worked with organizations to help children and the poor.

Blessed with the looks of a movie star and a striking affinity for the game of tennis, Gabriela Sabatini was an exhilarating performer on the court. Primarily a topspin artist from the backcourt who owned a sweepingly beautiful backhand, Sabatini added dimensions to her game later in her career, learning to attack more frequently and demonstrating exceptional hands at the net.

Sabatini first came to the tennis world's attention as a junior. She started playing tennis at the age of 6, and won her first tournament at age 8. In 1983, age 13, she became the youngest player to win the Orange Bowl in Miami, Florida. She won six major international junior titles, including the French Open girls' singles, and was ranked the World No. 1 junior player in 1984.

In 1985, aged 15 years and three weeks, Sabatini became one of the youngest-ever players to reach the semifinals at the French Open, where she lost to Chris Evert. She won her first top-level singles title later that year in Tokyo.

She was one of the leading players on the women's circuit in the late-1980s and early-1990s. She won the women's singles title at the US Open in 1990, the women's doubles title at Wimbledon in 1988, two Year-End Championships in 1988 and 1994, and a silver medal at the 1988 Olympic Games.

In 1988, Sabatini reached her first Grand Slam singles final at the US Open. She faced Germany's Steffi Graf, who had won the three previous Grand Slam singles events that year and was looking to win a fourth. Graf won the match 6–3, 3–6, 6–1. Sabatini was selected to represent Argentina in the 1988 Summer Olympics held in Seoul. (She also carried the country's flag in the opening ceremony.) She went on to win the silver medal in the women's singles competition. In the final, she again faced Graf, who was bidding to turn her Grand Slam into what the media had dubbed a "Golden Slam". Graf won 6–3, 6–3. Sabatini teamed-up with Graf to win the women's doubles title at Wimbledon that year. She also won 1988's year-end WTA Tour Championships.

Sabatini also won most of the highest level regular events on the women's tour, including Miami and Rome (four times). In the late 1980s, Sabatini launched a line of fragrances after partnering with the German perfume company Muelhens. Her signature scent debuted in 1989.

On May 22 2003, Sabatini was able to obtain Italian citizenship "jus sanguinis", thanks to the fact that her paternal great-grandfather David Sabbatini was born in Potenza Picena in the Marche region, and emigrated to Argentina at the end of the nineteenth century, like many other Santesi, in Roldán, in the Province of Santa Fe, with his wife Rosa Vivani, married on February 12 1899 in Potenza Picena

Sabatini said that she deliberately lost matches in her youth to avoid reporters. She made this claim when she was 43, saying her shyness was a major problem and she thought she had to speak after winning a tournament, so she often lost in semi finals.

A member of the world's top ten for a decade (1986-95), she realized her full potential at the 1990 US Open when she ousted Steffi Graf with a sterling final-round display of her talent.

As of 2014 she is single and without children but works on campaigns for UNICEF, UNESCO and the Special Olympics, and was inducted into the International Tennis Hall of Fame in 2006.
Tournament
AO
RG
W
US
Win-Loss
Subscribe now

This information and data is not available because you are not our subscriber yet.
Please click here and get full access to the entire database!