Fiona Crawley
Full name: Fiona Maeve Crawley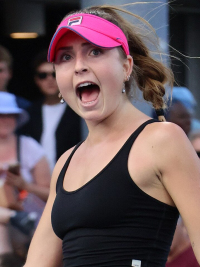 Born
Subscribe now

This information and data is not available because you are not our subscriber yet.
Please click here and get full access to the entire database!

Height
Plays
Bio
She is an American tennis player. She plays college tennis for the North Carolina Tar Heels and is currently ranked No. 1 in NCAA Division I (D-1) women's singles. In 2023, she helped North Carolina win its first national championship and won the national doubles title with Carson Tanguilig.

A native of San Antonio, Texas, Crawley took up tennis from age six to nine while living in Okinawa, Japan, where her father, Peter, was stationed as a member of the US Air Force. She comes from an athletic family: her father played soccer at Michigan State, and she used to train with her older siblings, Liam and Solène, who went on to play tennis at Trinity and Colorado State respectively.

Once described as a "tennis prodigy", Crawley was the No. 1–ranked tennis player in Texas in her age group from the age of ten. While attending Alamo Heights High School in San Antonio, she found success at various national junior events. In 2017, she won the United States Tennis Association (USTA) Girls' 16s National Clay Court Championships and the USTA 18s National Winter Championships, and finished runner-up in the Orange Bowl's under-16 event. In 2018, after winning the Texas Slam's under-18 event and the USTA Billie Jean King Girls' 16s National Championships, she earned a wildcard into the US Open junior tournament, but lost in the first round. Crawley peaked at No. 294 in the ITF Junior Rankings on December 14, 2020. Nationally, she was considered the No. 1 tennis recruit of the class of 2020.

In 2020, Crawley began playing college tennis at the University of North Carolina at Chapel Hill, where she is majoring in English and comparative literature. In her first year, she compiled a 30–1 singles record, helping North Carolina win the ACC Championships and earn the top seed at the 2021 NCAA Team Championships, where they reached the semi-finals. As a sophomore in 2021–22, Crawley led Division I in singles wins with a 47–7 record, mostly playing in the No. 4 spot for North Carolina, and finished the season at No. 32 in the D-1 rankings. In doubles, she and teammate Elizabeth Scotty were ranked No. 1 at one point in the season. At the 2022 NCAA Championships, where top-seeded North Carolina again got to the team semi-finals, an unseeded Crawley made a run to the semi-finals of the individual competition.

Crawley (right) and Carson Tanguilig won the 2023 NCAA Doubles Championship.
In the fall of 2022, while going undefeated 17–0 in Intercollegiate Tennis Association (ITA) tournament play, Crawley attained D-1 tennis's No. 1 singles ranking for the first time on November 16, 2022. North Carolina dominated in the spring of 2023, going undefeated in the regular season. They avenged their only loss—to rival North Carolina State in the ACC Championship—at the 2023 NCAA Championships, where they won their first national team title. Crawley beat NC State's Alana Smith 6–2, 7–6, in her singles match in the final. Her singles record this year was 47–3, with her only losses coming to Georgia's Lea Ma and NC State's Diana Shnaider (in the ACC final) and Amelia Rajecki (in the NCAA singles event's round of 16). Though she played most of the year in the team's No. 1 spot, she swapped with No. 2 Reese Brantmeier for NCAA play. In doubles, Crawley mostly partnered with sophomore Carson Tanguilig. In the fall, they won a regional tournament and reached a national final, bringing Crawley to the No. 1 doubles ranking with a second partner. At the end of the season they won the NCAA Doubles Championship, beating teammates Scotty and Brantmeier in the final. She was named the ITA National Player of the Year and won the Honda Sports Award for tennis.

Crawley played at a handful of ITF World Tennis Tour events from 2017 to 2021. She made her WTA Tour debut at the 2023 Charleston Open, where she received a wildcard into the main draw but lost in the first round to world No. 64 Alizé Cornet, 6–0, 6–2. In June 2023, playing in her first ITF competition since July 2021, she reached the final of the W25 event in Wichita as a qualifier. Though she lost there to two seed Stacey Fung, the result led to her debut in the WTA rankings at No. 786 in the week of July 3, 2023. The next month, she split two back-to-back ITF W15 doubles finals in Lakewood, California, partnering college players Mary Stoiana of Texas A&M and North Carolina teammate Brantmeier.

Crawley made her Grand Slam debut at the 2023 US Open. As a wildcard, she progressed through the singles qualifying tournament by saving two match points in the first round (against Réka Luca Jani) and prevailing in third-set tiebreaks in two of her three qualifying wins. NCAA champions Crawley and Tanguilig were also awarded a wildcard into the doubles event.
Tournament
AO
RG
W
US
Win-Loss
Subscribe now

This information and data is not available because you are not our subscriber yet.
Please click here and get full access to the entire database!