Daria Kasatkina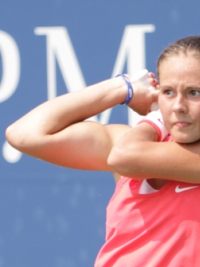 Born
Subscribe now

This information and data is not available because you are not our subscriber yet.
Please click here and get full access to the entire database!

Height
Plays
Coach
Bio
Daria Sergeyevna Kasatkina (born 7 May 1997) to Samara Oblast to Tatyana Borisovna (née Timkovskaya) and Sergey Igorevich Kasatkin as a Russian professional tennis player.
Tolyatti is an industrial city located about 1,000 kilometres (620 mi) southeast of Moscow. Her father works as an engineer at the Volga Automobile Plant, while her mother was a lawyer. Both of her parents were nationally-ranked athletes in Russia (officially known as Candidates for Master of Sports); her mother in athletics, and her father in ice hockey. Kasatkina also has an older brother named Alexandr. Her brother had played tennis casually and convinced her parents to have her also begin playing the sport when she was six years old. She initially played two to three times a week for two years. In time, she began competing in higher-level tournaments.
She excelled as a junior, winning the European 16s championship and one junior Grand Slam singles title at the 2014 French Open. Kasatkina quickly ascended up the professional rankings, reaching No. 32 in the world while still 18 years old and winning her first WTA title as a teenager at the Charleston Open. She rose to prominence in 2018 by finishing runner-up to fellow up-and-coming player Naomi Osaka at the Premier Mandatory Indian Wells Open in a match regarded as representing a new wave of women's tennis. Kasatkina also won the biggest title of her career at the Kremlin Cup at home in Russia towards the end of the season.

She made her top 10 debuts in the Women's Tennis Association (WTA) rankings towards the end of the 2018 season. She has won two WTA titles in singles as well as one in doubles.

Having won the Junior Fed Cup in 2013, Kasatkina made her senior Fed Cup debut for Russia in 2016 in a World Group quarterfinal against the Netherlands. She won the dead rubber doubles match with Ekaterina Makarova against Cindy Burger and Arantxa Rus as Russia lost the tie. She also participated in the World Group Play-offs against Belarus two months later and played three rubbers, as Makarova and Svetlana Kuznetsova both opted to skip the tie. Kasatkina won her first live rubber against Aliaksandra Sasnovich, but Russia lost all three other singles rubbers to lose the tie. Partnering with Elena Vesnina, she also won the doubles dead rubber. Nonetheless, Russia was relegated out of the World Group.

In 2017, Russia played in World Group II and won their tie to advance to World Group Play-offs. After Kasatkina skipped that tie, she returned for the Play-off round. However, for the second consecutive year, Russia lost in this round to Belgium to keep them in World Group II. Kasatkina won her only singles match to set up a decisive doubles rubber. Alongside Vesnina, Kasatkina lost that match to Elise Mertens and An-Sophie Mestach. Kasatkina did not participate in Fed Cup in 2018 as Russia was further relegated to the Europe/Africa zonal group.

Kasatkina competed for Russia in 2019 during the zonal competitions, recording a win over Karen Barritza in straight sets in the only match she played throughout the week. Russia ultimately secured a place in the World Group II Play-offs.

Kasatkina is a baseline player with a crafty style of play. She employs a variety of shots including heavy topspin forehands, one-handed slice backhands, serves, and drop shots. Tennis journalist Steve Tignor compared her ability to naturally hit one-handed backhands despite typically utilizing a two-handed shot to that of former world No. 1 men's tennis player Andy Murray. Her coach Phillip Dehaes describes her style as "change of rhythm, change of speed, change of trajectory." She relies on outsmarting her opponents through tactics rather than hitting overpowering shots. However, she is capable of hitting powerful groundstrokes as well. Dehaes emphasizes that her key is to avoid hitting the ball in her opponent's strike zone. Kasatkina's style has been praised by others including women's tennis coach Wim Fissette, who called her "the Roger Federer of women's tennis."

Kasatkina's favourite surface is clay. Fellow top women's player Caroline Wozniacki has commended her clay-court ability, saying, "The slower the surface is, the better for her. She has very good hands and good angles and everything." As such, she also excels at tournaments with slower hard courts, such as the Indian Wells Open. Kasatkina has had a good record on all three main surfaces on the WTA Tour, winning a clay-court title at the Charleston Open, winning a hard-court title at the Kremlin Cup, and reaching the quarterfinals on the grass at Wimbledon.
Kasatkina's favourite tennis player is Rafael Nadal. In the women's game, she is a fan of Petra Kvitová. She prefers to watch men's tennis over women's tennis, saying that the players are better at serving and moving around the court. Kasatkina likes to play sports in general, including football. She is a fan of FC Barcelona.

Daria has been sponsored by Nike, Tecnifibre and Instaforex for the past years.
Tournament
AO
RG
W
US
Win-Loss
Subscribe now

This information and data is not available because you are not our subscriber yet.
Please click here and get full access to the entire database!