This page is dedicated to Pauline Betz Addie; one of the greatest US players of the tennis history, who was born 100 years ago.
Pauline Betz Addie (née Pauline May Betz) was an American professional tennis player. She won five Grand Slam singles titles and was the runner-up on three other occasions. Jack Kramer has called her the second best female tennis player he ever saw, behind Helen Wills Moody. Asked who was the greatest woman tennis player, Pauline named two - Alice Marble who played in the 1920's and Martina Navratilova. Bill Budge would put Pauline in that class of great women players. Pauline had perfect strokes and a powerful backhand.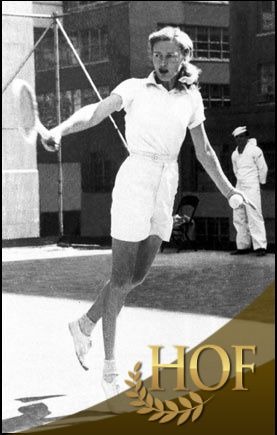 Moving around the court with alacrity, striking the ball crisply, driving her backhand with admirable pace and unfailing accuracy, Pauline Betz Addie was one of the world's premier players across the 1940s.
An American with a large heart and agile mind, she made it to six consecutive finals at Forest Hills from 1941-46, winning the championships of her country four times. Her popularity was hard earned, her quiet sense of self unmistakable.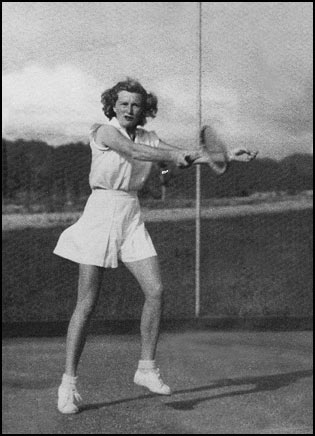 Pauline May Betz was born on Aug. 6, 1919, in Dayton, Ohio, and raised in Los Angeles, where her tennis-playing mother taught physical education in the Watts section. Pauline bought her first tennis racket when she was 9, trading some of her father's pipe collection for it at a thrift shop; her father made her take on a paper route to pay him back. Betz attended Los Angeles High School and learned her tennis from Dick Skeen.
Her quickness on her feet and her piercing backhand passing shot soon distinguished her as a potential star on the local public courts. In 1939, she attained her first national ranking in the top 10; she was 19. That same year she received a scholarship from Rollins College in Florida (graduating in 1943), where she played on the men's tennis team, filling the No. 4 spot behind No. 1 Kramer. In college she was known as a gifted all-around athlete, whether playing table tennis, golf or pickup basketball games with men. She was a member of Kappa Alpha Theta sorority.
Addie won the first of her four singles titles at the U.S. Championships in 1942, saving a match point in the semifinals against Margaret Osborne duPont while trailing 3–5 in the final set. The following year, she won the Tri-State tournament in Cincinnati, Ohio, defeating Catherine Wolf in the final 6–0, 6–2 without losing a point in the first set, a "golden set". She won the Wimbledon singles title in 1946, the only time she entered the tournament, without losing a set beating Louise Brough in the final 6-2, 6-4, and also played a key role in America's victorious Wightman Cup team.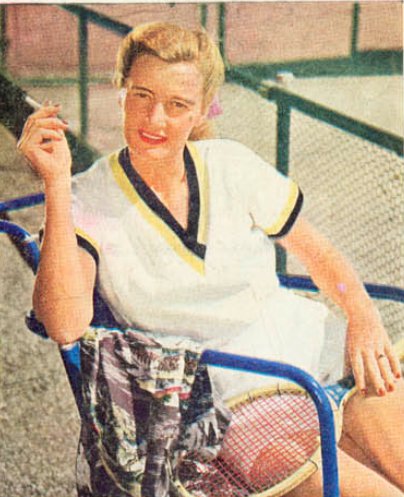 Betz Addie, who was groomed on the tennis courts of Los Angeles, was a five-time Grand Slam singles champion and the world's top-ranked woman when, in April 1947, the United States Lawn Tennis Association notified her by cable — she was in Monte Carlo at the time while competing in Europe — that she was barred indefinitely from taking part in any further amateur matches. Another American player, Sarah Palfrey Cooke, a multiple Grand Slam champion, was also suspended. The two were ruled ineligible for the 1947 French Open.
Pauline Betz's amateur career ended in 1947 when she explored the possibilities of turning professional. At the time of her suspension, in 1947, Betz was world No 1, undefeated in 39 matches, and the reigning Wimbledon and US Open champion. She immediately turned professional, enjoying a 13-year undefeated career on tour with such notables as Pancho Segura, Don Budge, Riggs and Kramer. She bested both Sarah Palfrey Cooke (1947) and Gussy Moran (1951) on professional tours. Betz Addie wearing leopard print short-shorts to compete with Moran's famous lacy panties, which had caused an international stir at Wimbledon in 1949. As a professional, earning $10,000 Betz's first year, she went undefeated in a field far less challenging than the amateur ranks.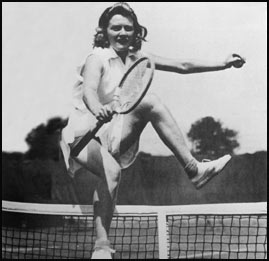 In retirement Betz coached professionally, while motherhood did not diminish her on-court tenacity: in a 1959 exhibition, while five months pregnant, she beat Althea Gibson, the first black woman to win a Grand Slam title. Betz played tennis until 2003 and was also an excellent golfer, table-tennis player and tournament bridge player.
According to John Olliff of The Daily Telegraph and the Daily Mail, Addie was ranked World No. 1 in 1946 (no rankings issued from 1940 through 1945). Addie was included in the year-end top ten rankings issued by the United States Lawn Tennis Association from 1939 through 1946. She was the top ranked U.S. player from 1942 through 1944 and in 1946.
Pauline was inducted into the International Tennis Hall of Fame in 1965.
Some miscellaneous info about Pauline Betz Addie:
She studied Economics at Rollins College later earning her MA from Columbia University. On September 2 1946, the week she won her fourth US Open, she appeared on the cover of Time, which proclaimed her "the first lady of tennis." The referenced article said: "Pauline is a trim 5 ft. 5; her hair is strawberry blonde, sun bleached and wiry. Principally because of her green eyes she seems to have a ready-to-pounce, feline quality. A straightening of her shoulders is a characteristic mannerism — a squaring away that seems to symbolize in an otherwise relaxed girl, a won't-be-beat spirit." On February 2, 1949 Betz married Bob Addie, a sportswriter for The Washington Post, taking his surname.
After retiring as a player she remained an active teaching professional while raising her five children.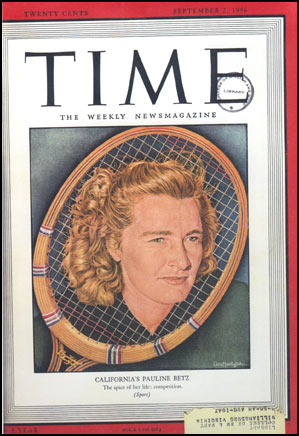 In 1955, she became the first woman to be named club professional at Bethesda's historic Edgemoor Tennis Club. The actor Spencer Tracy, a former boyfriend, was among her students. In 1990 she received the USTA's Sarah Palfrey Danzig Award for her contributions to tennis. The Pauline Betz Addie Tennis Center at Cabin John Regional Park in Potomac, Maryland was renamed in her honor on May 1, 2008. Addie, Albert Ritzenberg, and Stanly Hoffberger founded the center in 1972. Betz Addie and her husband, who died in 1982, had five children, two of whom, Rusty and Gary, became tennis teachers. They survive her, as do two other sons, Jon and Richard; a daughter, Kim Addonizio who is poet and novelist; five grandchildren; and a great-grandson. Her granddaughter Aya Cash is an actress. Pauline Betz Addie died in her sleep on May 31, 2011, aged 91. Her son Gary confirmed her death, at an assisted living facility, saying she had had Parkinson's disease.
Her best friend was Gloria Thompson (Jimmy Connors' mother).
She was laid to rest in Saint Gabriel Cemetery (Potomac, Montgomery County, Maryland, USA).