This page is dedicated to Elisabeth "Bessie" Holmes Moore; one of the greatest US players of the tennis history, who was born 140 years ago. Few women players were as successful as Moore at the end of the nineteenth and beginning of the twentieth centuries. She made her presence known in singles, doubles and mixed doubles, and established herself as one of the premier players of her time. In 1892, she took the annual June women's tournament in Philadelphia by storm and surprised spectators when she defeated a number of experienced players. A precocious competitor, Moore made it to the final of the U.S. Championships at the age of 16 years and 3 months, losing to Mabel Cahill in the first five-set match contested between two women. She is the youngest runner-up in the history of U.S. Championships, which she won on four occasions as the first woman who did it in the history of tennis. Bessie Moore was inducted into the International Tennis Hall of Fame in 1971.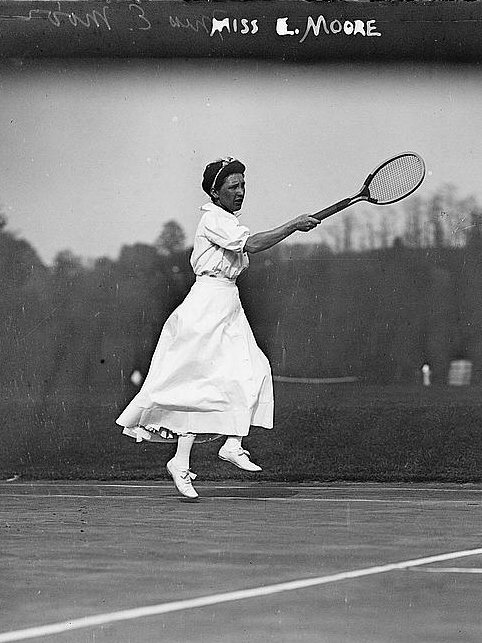 Elisabeth Moore was born on March 5, 1876 in Brooklyn, she was the younger daughter of George Edward Moore (1840–1911), an affluent cotton broker, and Sarah Z. Orr (1857–1942). She was named for her maternal grandmother; raised and schooled in Ridgewood, Bergen County, NJ. She rode her white pony on local trails and roads and at the age twelve, she learned to play lawn tennis. Encouraged by her father, the president of the Hohokus Valley Tennis Club in the 1890s, she won the club's Women's Singles Championship in 1890. Her first important tournament was at the Ladies Club for Outdoor Sports on Staten Island, in September 1891, where the fifteen-year-old almost won a set before succumbing to Ellen Roosevelt, the 1890 national champion (and first cousin of Franklin Delano Roosevelt). Described as the "little girl from New Jersey," 16-year-old Bessie Moore of Ridgewood was a newcomer to the national lawn tennis competition in 1892.
Moore became the sensation of the National Women's Championships in Philadelphia in June 1892. Quiet, modest, well mannered, good humoured, with a ready smile - and clearly the spectators' favourite - she won the all-comers and challenged Mabel Cahill, the stand-out champion. Moore evened the best-of-five-sets match by winning the fourth set decisively from an obviously tired Cahill and appeared the likely winner - but lost. Clarence Hobart, in "Hobart Talks of Tennis" (June 1896, newspaper unidentified), wrote: "she might have won if she had not then made the common mistake of waiting about outdoors after the fourth set without any extra covering while her opponent retired to the clubhouse for a longer rest than she was entitled to under the rules. Through this carelessness Miss Moore was utterly unable to do herself justice in the fifth set." Thus vanished the opportunity to become the youngest U.S. Singles Champion ever at 16 years, 3 months and 18 days (which would have made her five months younger than Tracy Austin, when she won in 1979). In succeeding championship matches, Moore lost an 1893 semifinal to Aline Terry, missed the 1894 meeting because of illness, lost the 1895 final to Juliette Atkinson, and then won the 1896 tournament handily, defeating Atkinson in the challenge round. Not as quick, fast of foot, or hard hitting as her chief rivals, the short, slightly stocky Moore played a slow-paced, all-court style, relying on tireless court coverage, anticipation, accuracy of shot, and sound tactical judgment. Her backhands and forehands were stroked with equal expertise, a rarity among women players of that period. Usually she returned any balls reached, out steadied baseliners, and thwarted net attackers with passing placements and lobs. An early Ridgewood opponent remembered Moore playing equally well left- and right-handed, but she was solely a right-hander in important tournaments.
As stand-out champion in 1897, she lost a five-set challenge from Atkinson. The first prominent American woman player to compete in Europe, Moore entered the 1898 Irish Championships at Dublin, where she lost. Then ill health sidelined her until 1901. Moore said, "In 1901, I got my breath back enough to make a comeback." She regained her championship by vanquishing Atkinson and winning exhausting five-setters from Marion Jones Myrtle McAteer. Moore fainted during the 1902 challenge round, could not continue, and defaulted to Jones, but won her title back in 1903. From 1892 through 1901 the best-of-five-set final and challenge rounds rules maintained, but then the length was shortened to best of three sets, despite objections from Moore and other women. Moore protested publicly: "I do not think any such change should have been made without first canvassing the wishes of the women players...Lawn tennis is a game not alone of skill but of endurance as well, and I fail to see why such a radical change should be made to satisfy a few players, who do not take the time or have the inclination to get themselves in proper condition for playing."
May Sutton routed her in 1904 but Moore won again in 1905. Her three triumphs in 1901, 1903, and 1905 permanently retired the second U.S. Women's Challenge Cup (Atkinson secured the first after three years wins in 1898). She became the first player to win the United States Women's Singles lawn-tennis championship four times (1896, 1901, 1903 and 1905). Only six other players in tennis history exceeded the number of her championships. With this accomplished, she never again played in the National Outdoor Singles. She did, however, win the 1896 U.S. Doubles Championships with Atkinson, the 1903 crown with Carrie Neely, and the U.S. mixed doubles of 1902 and 1904 with Wylie Grant. Moore moved to New York, NY, and wintered at the family home in Melrose, FL. She also traveled abroad and played frequently in her favorite European tournament at Hamburg, Germany. In 1907, the already experienced competitor won the inaugural U.S. Indoor Women's Singles Championship and the first such doubles title with Helena (Hellwig) Pouch the next year. Thereafter Moore competed mostly in doubles but as late as 1919 reached singles finals in two leading eastern tournaments.
She died, at age 82, from congestive heart failure on January 22, 1959, at Starke, FL. Her death certificate indicated a history of emphysema, probably the illness that plagued her youth. Moore's professional successes led her to be posthumously elected in 1971 to the National Lawn Tennis Hall of Fame.
Source: Past and Promise: Lives of New Jersey Women by Joan N. Burstyn, Women's Project of New Jersey