Harry Scrivener
Full name: Harry Stanley Scrivener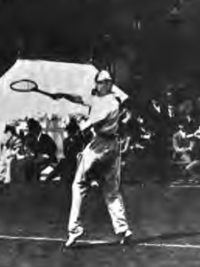 Born
October 01, 1865 in London, England, UK
Died
August 18, 1937 in Wimbledon, England, UK
Plays
Right-handed
Bio
Harry Stanley Scrivener was born in 1865 in London. He started to compete in tennis tournaments around the age of 20.
He was competing in several different tournament like Oxford University Tournament
Middlesex Championships or South of England Championships with mixed success.

While at Northern Lawn Tennis Association Tournament and Irish Championships he marched to semifinal or quarterfinal.

Harry won the Midland Counties Championships in 1888.

Finally his possibly biggest achievement was in 1888 and 1890 when he reached the quarter final at Wimbledon Singles.
Misc
He was a contributor of book "Lawn Tennis at home and abroad". Which was edited by A. W. Myers. With contributions by H. S. Mahony, H. S. Scrivener, G. W. Hillyard, Mrs. Sterry.