Madison Keys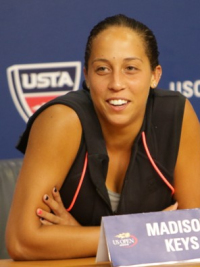 Born
February 17, 1995 in Rock Island, Illinois, USA
Height
5'10" (178 cm)
Weight
145 lbs (66kg)
Plays
Right-handed
Coach
Juan Todero (2013-14, 2019 - present), Jay Gooding (2013-14), Lindsay Davenport (2015, 2017), John Leach (2015), Jesse Levine (December 2015 - May 2016), Thomas Hogstedt (2016), Dieter Kindlmann (2017)
Bio
When Keys faced Sloane Stephens in the 2017 US Open final, they became the first Americans other than the Williams sisters to contest a Grand Slam final since 2005.

Since the age of 9, Keys has been part of the Chris Evert Academy in Boca Raton, Florida. She is one of the youngest tennis players to win a match on the WTA Tour, at the age of 14 years and 48 days, by beating world No. 81 Alla Kudryavtseva on the clay courts at the 2009 MPS Group Championships in her home state of Florida.
Misc
Keys's passion for tennis started at a young age while growing up in the Quad Cities. She first became interested in tennis because she liked Venus Williams's white tennis dress, according to a video interview she conducted with World Tennis Magazine in August 2011.